Santa Fe, New Mexico is a historic city with a vibrant art culture. The area is known for its adobe-style architecture, unique shops, and amazing art galleries. Plus, there are so many things to do in Santa Fe. There's the Georgia O'Keefe Museum, Meow Wolf, and tons of open space to explore.
The food is also fabulous — Santa Fe has its own unique style of cooking that both visitors and residents love. The people who live here like the small-town feel of Santa Fe, the lifestyle, and the community.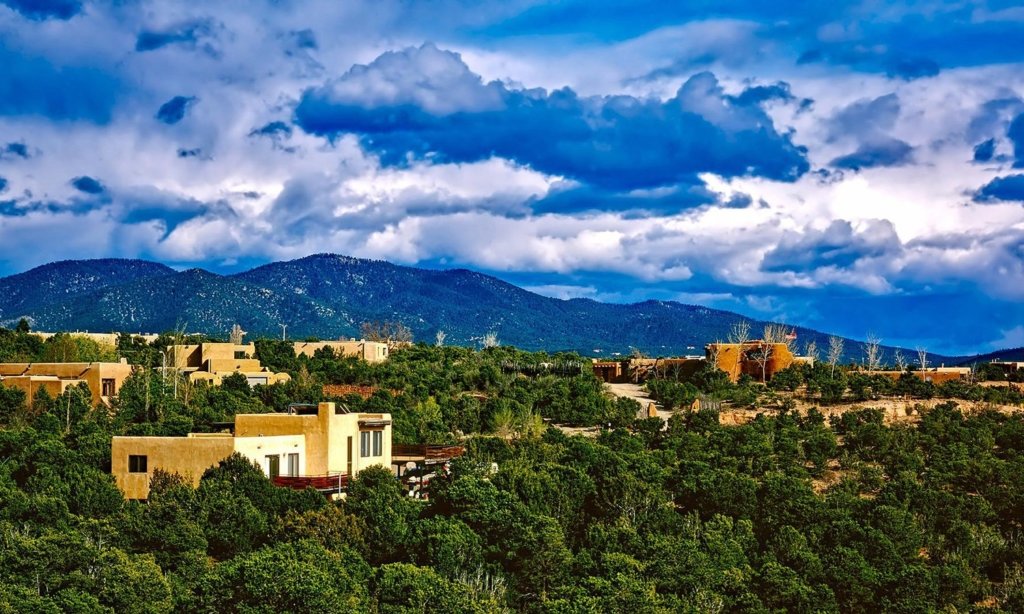 Santa Fe is Attracting Luxury Homebuyers from the Surrounding States
With so much to offer, it's no surprise that people from our neighboring states are interested in moving to Santa Fe. Luxury homes in Santa Fe have been in high demand for well over a year now. This is because the city offers its residents exactly what they are looking for in a community – all the big-city benefits with a small-town vibe.
Homebuyers are flocking to the area because they can stretch their home-buying dollar while getting to live in an area with sunny blue skies and stunning views of the Sangre De Cristo mountains.
With so many beautiful homes for sale in Santa Fe, more people are relocating to the area from places like California and Colorado, where buying a luxury home costs more than it does in Santa Fe. While the current average home list price in Santa Fe is around $641,808, when it comes to luxury homes, the home prices are still more affordable than in other popular cities in the Southwest.
The Zoom Boom has Brought Even More Buyers to the Already Competitive Santa Fe Housing Market
Even before the pandemic, Santa Fe was a popular place for luxury homebuyers to buy a home. But, even more demand for Santa Fe real estate has happened over the last year because of the number of employees that are now working from home.
The "Zoom Boom" has created a surge of migration to areas across the country, including Santa Fe. The most popular Zoom towns are smaller, communities with lots to offer. These cities include Flagstaff, Arizona, Bend, Oregon, and Santa Fe, New Mexico. For much the same reasons that retirees move to the area, telecommuters are drawn to its natural beauty and relatively affordable home prices.
Most of these employees have had to live in larger cities to be close to their jobs. But times are changing, and they can now live wherever they want. Many of them are choosing Santa Fe as their new home.
This has put a strain on the already tough home-buying market. Some local residents feel squeezed out of their own community due to the low inventory of homes and a competitive housing market.
Are you one of many homebuyers that want to move to Santa Fe?
The Santa Fe real estate market is competitive and it does have more buyers than inventory. But, if you're looking to buy a home, it's still possible to find the perfect one for you. Here are a few things you should know before you start searching for your Santa Fe dream home.
Learn everything you can about Santa Fe
A great relocation realtors understands that buying a home in a new city is an information intake process. Soak up everything you can about Santa Fe. This will help you understand where you do and don't want to look for homes, what the lifestyle will be like in different areas and how far your budget will stretch in different neighborhoods. When you're looking at homes on line utilize Google Earth and the Santa Fe Tax Assessor's website! Google Earth will let you walk up and down the street outside of that cute listing and see how the area is kept up. The Tax Assessor's site will give you a great arial view of the city. You can zoom in to count the number of trees in the backyard or zoom out to see how many blocks a home is to work or school or the activities you enjoy.
Have your finances in place
In Santa Fe's competitive real estate market, cash in king but many homes are still going to well qualified buyers using mortgages. I can't stress enough the importance of using a local lender in a small town like Santa Fe. If you don't yet have a great relationship with a Santa Fe or New Mexico mortgage lender, I can introduce you to someone you will love.
Know the right people
I have happy and productive relationships with the other Santa Fe realtors. I often know about properties before they are listed and every day I also look for off market properties for my homebuyers. This, and my experience helping people with writing offers that stand out, gives you the advantage you need to compete for your Santa Fe dream. You don't want to approach this market uneducated and in poor hands.
Make smart, strategic offers
There is a lot to be said on smart offer strategies in 2022. My buyer clients have been consistently winning their bids and getting into their new Santa Fe homes. If you're ready for your next grand adventure, give me a call. The adventure starts here.
505-603-9161.