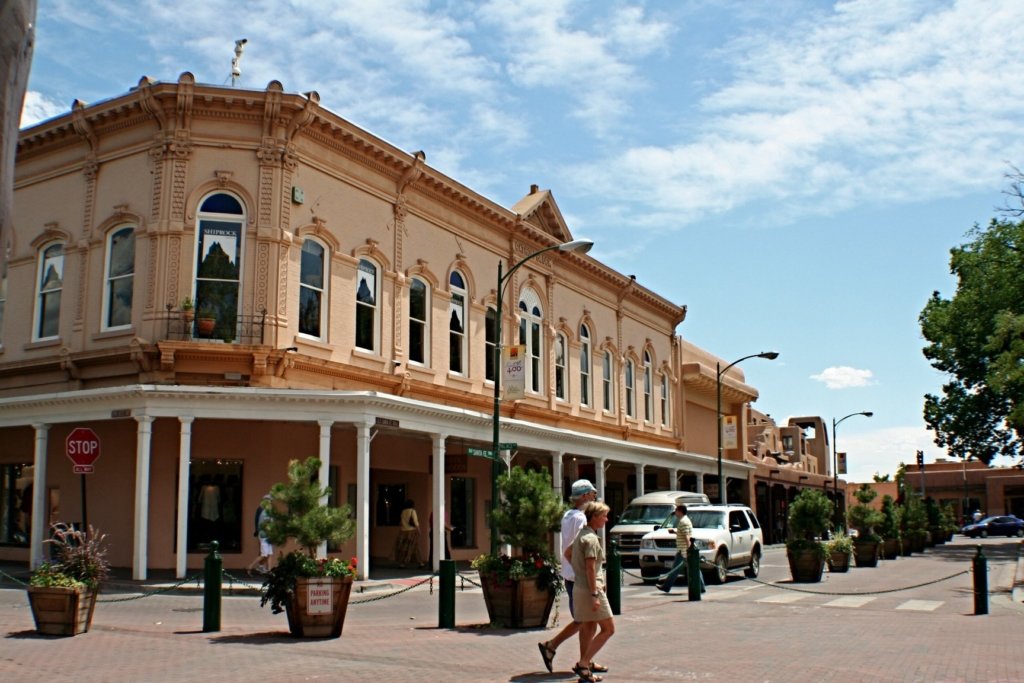 Santa Fe, New Mexico is arguably one of the most beautiful and romantic towns in the world. Nestled in the Sangre de Cristo foothills of northern New Mexico at 7,000 feet, Santa Fean's enjoy dramatic views of five mountain ranges – the Sangre de Cristo Mountains, Jemez Mountains, Sandia Mountains, Ortiz Mountains, and the Manzano Mountains. Due to our high altitude setting the skies are incredibly clear and blue and the bright sunlight highlights our breathtaking landscapes. Santa Fe's climate is temperate and the humidity is low which creates a pleasant living environment. Although we are in "the desert", you may be surprised to learn that due to our high altitude, we enjoy four distinct seasons. We have gorgeous colorful springs and falls, and in the summer our evenings may still be cool (a light jacket is recommended). Winter usually brings the occasional snowfall, but there is so much sunshine it rarely stays long on the ground. High up in the mountains, the snow sticks around longer bringing recreational opportunities to those who enjoy winter fun. We even have our own ski resort, the Santa Fe Ski Basin. People come to Santa Fe from around the globe to enjoy our unique setting, diverse cultures, and many other attractions such as our renowned artistic scene and our word class cuisine.
History of Santa Fe's Art Scene
Santa Fe is home to more than 250 galleries and hundreds of artists, architects and craftspeople. It is the third largest art market in the United States behind New York, and Los Angeles.
In 2005 the United Nations Educational, Scientific and Cultural Organization (UNESCO) honored Santa Fe with its worldwide "Creative City" designation, the first and only one in the United States.
Of course, there have been artists in Santa Fe as long as there have been people here. Santa Fe sits atop the ruin of a thousand year-old Indian pueblo where beautiful pottery was made in the Anasazi / Tewa tradition, an art-form that continues today in the surrounding pueblos. The Spanish settlers also brought their own folk art traditions with them such as carved and painted religious imagery, as well as their skills in blanket weaving, wooden furniture making, blacksmith work, and tin-work.
When "Anglo" artists began to settle in the Santa Fe area at the start of the twentieth century, they discovered a wealth of intriguing images and aesthetics. But the biggest draw was the beauty and shapes of the landscape itself, and the unique quality of light the high desert offers. These eastern artists brought news of the light, the mild and healthy climate, and the beauty of the land back to New York and more artists soon followed. By the turn of the century, a number of renowned artists were living in both Santa Fe and Taos, both of which would eventually become full-fledged art colonies.
The Canyon Road area was the heart of Santa Fe's artist colony. At that time, a group of painters came together who were known as Los Cinco Pintores, or the Five Painters. They were Freemont Ellis, Willard Nash, Jozef Bakos, Will Schuster and Walter Mruk. They built homes next to each other and showed their work collectively. For such a small group, their influence was great and their styles diverse. A modernist movement even developed in New Mexico with cubist and abstract elements appearing in paintings with Southwestern themes. Of course one of the most well-known New Mexico–based artists is Georgia O'Keeffe, who lived for a time in Santa Fe, but settled primarily in Abiquiu. The Georgia O'Keeffe Museum in Santa Fe is devoted to exhibitions of her work and associated artists or related themes.
Throughout the 1950's and 1960's artists continued to come to Santa Fe, many settling on Canyon Road. This brought more shops and galleries to the old adobe homes, and by 1969 it is estimated there were 500 professional artists living and working in Santa Fe, with about 30 studios and galleries located on Canyon Road. Santa Fe is now a major destination for international collectors and art lovers, and our many galleries and museums located throughout the city showcase a wide array of contemporary, Southwestern, indigenous American, and experimental art.
Santa Fe style and "The City Different"
The Spanish laid out the city according to the "Laws of the Indies," town planning rules and ordinances which had been established in 1573 by King Philip II. The fundamental principle was that the town be laid out around a central plaza. On its north side was the Palace of the Governors, while on the east was the church that later became the Cathedral Basilica of Saint Francis of Assisi.
An important style implemented in planning the city was the radiating grid of streets centering from the central Plaza. Many were narrow and included small alley-ways, but each gradually merged into the more casual byways of the agricultural perimeter areas. As the city grew throughout the 19th century, the building styles evolved too, so that by statehood in 1912, the eclectic nature of the buildings caused it to look like "Anywhere USA." The city government realized that the economic decline, which had started more than twenty years before with the railway moving west and the federal government closing down Fort Marcy, might be reversed by the promotion of tourism.
To achieve that goal, the city created the idea of imposing a unified building style – the Spanish Pueblo Revival look, which was based on work done restoring the Palace of the Governors. The sources for this style came from the many defining features of local architecture: vigas (rough, exposed beams that extrude through supporting walls, and are thus visible outside as well as inside the building) and canales (rain spouts cut into short parapet walls around flat roofs), features borrowed from many old adobe homes and churches built many years before and found in the Pueblos, along with the earth-toned look (reproduced in stucco) of the old adobe exteriors.
After 1912 this style became official: all buildings were to be built using these elements. By 1930 there was a broadening to include the "Territorial," a style of the pre-statehood period which included the addition of portales (large, covered porches) and white-painted window and door pediments (and also sometimes terra cotta tiles on sloped roofs, but with flat roofs still dominating). The city had become "different." However, "in the rush to pueblo-fy" Santa Fe, the city lost a great deal of its architectural history and eclecticism. Among the architects most closely associated with this "new" style are T. Charles Gaastra and John Gaw Meem.
By an ordinance passed in 1957, new and rebuilt buildings, especially those in designated historic districts, must exhibit a Spanish Territorial or Pueblo style of architecture, with flat roofs and other features suggestive of the area's traditional adobe construction. However, many contemporary houses in the city are built from lumber, concrete blocks, and other common building materials, but with stucco surfaces (sometimes referred to as "faux-dobe", pronounced as one word: "foe-dough-bee") reflecting the historic style.
Sculpture
There are many outdoor sculptures, including many statues of Francis of Assisi, and several other holy figures, such as Kateri Tekakwitha. Given that Francis of Assisi was known for his love of animals it is not surprising that there are great numbers of representations of crows, bulls, elephants, livestock and other beasts, all over town. The styles run the whole spectrum from Baroque to Post-modern. Notable sculptors connected with Santa Fe include John Connell, Luis Jiménez, Rebecca Tobey and Allan Houser.
Literature
Numerous authors followed the influx of specialists in the visual arts. Well-known writers like D.H. Lawrence, Cormac McCarthy, Kate Braverman, Douglas Adams, Roger Zelazny, Alice Corbin Henderson, Mary Austin, Witter Bynner, Dan Flores, Paul Horgan, Rudolfo Anaya, George R. R. Martin, Mitch Cullin, Evan S. Connell, Richard Bradford, John Masters, Jack Schaefer, Michael Tobias, Susan Gardner, Hampton Sides and Michael McGarrity are or were residents of Santa Fe. Walker Percy lived on a dude ranch outside of Santa Fe before returning to Louisiana to begin his literary career.
Music, dance, and opera
The Santa Fe Opera's productions take place between late June and late August each year. The city also hosts the Santa Fe Chamber Music Festival, which is held at about the same time, mostly in the St. Francis Auditorium and in the Lensic Theater. Also in July and August, the Santa Fe Desert Chorale holds its summer festival. Santa Fe has its own professional ballet company, Aspen Santa Fe Ballet, which performs in both cities and tours nationally and internationally. Santa Fe is also home to internationally acclaimed Flamenco dancer's Maria Benitez Institute for Spanish Arts which offers programs and performance in Flamenco, Spanish Guitar and similar arts for children and adults year round. Other notable local figures include the National Dance Institute of New Mexico and German New Age musician Deuter.